Men's Group: There's plenty of evidence that 1) Friendships are vital to men's health and well-being, and 2) Men have difficulty making and keeping friends in adulthood. Careers absorb all of our time, and we end up relying on our wives for friendship (if we're married), which ends up being distinctly unfair to the wives. Or we simply do without. Guys, we're here for you!
The NUUC Men's Group is a way for men to form friendships and support each other. And here, we do that through substantial discussion and work. Come check us out for mutual support with a social conscience. If you're interested, please contact David Shontz at [email protected] and let him know you are coming.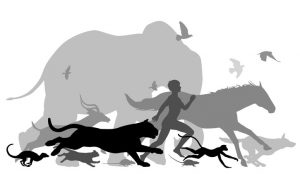 Northwoods Stampede: Men of Northwoods are redefining an annual Northwoods tradition.  Contact David Shontz to find out the Stampede is charging towards social justice ([email protected]).