Upcoming Spiritual Practice Opportunities:
---
The following spiritual practice groups gather regularly here at Northwoods.  Contact the church office at 281-298-2780 or [email protected]  for the contact information for the current organizer or contact person of a group. Regardless of your personal path or beliefs, all groups are open to all who wish to explore them!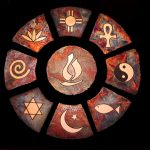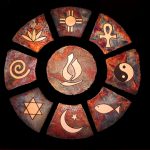 Zen Mind Buddhists Zen Mind Buddhist Sangha has met at Northwoods Unitarian Universalist Church for a long number of years. The participants of the group meet on the 1st and 3rd Sunday evenings each month at 6 pm. The evenings include two 20 minute sitting meditations separated by a 5-7 minute walking meditation. There is a opening chant, a chant concluding the meditation period, and a closing chant.  The formal mediation period is followed by a tea ceremony then reading and discussion on a Buddhist topic.  The group participants are both members and non-members of the church with not all of these being Buddhist.  The Sangha welcomes anyone interested in meditation, whether new at meditation or more experienced.
Blue Mountain Meditation The Blue Mountain Meditation Group gathers each Tuesday in the Northwoods sanctuary from 5 p.m.-6:30 p.m. Those who gather share spiritual readings and a half hour of silent meditation.  The group follows the eight-point program of passage meditation developed by Sri Eknath Easwaran.  The approach is nondenominational, nonsectarian, and free from dogma and ritual.  It can be used within each person's own cultural and religious background. Those who are interested are encouraged to visit the Blue Mountain website (www.easwaran.org) to explore a wealth of information on the practice.
Northwoods Progressive Christian Fellowship This group gathers regularly for study, discussion, fellowship, and worship.  Progressive Christians have a willingness to question tradition, an acceptance of human diversity, and a strong emphasis on social justice and environmental stewardship, led by the life and teachings of Jesus.
Humanist Community of the Woodlands We invite all humanists, freethinkers, agnostics, atheists, skeptics and anyone else to join us for our monthly meetings to discuss current events from a humanist viewpoint. Come enjoy fellowship with like-minded individuals. If you're not like-minded, come visit us anyway and learn what we are all about. Meets on the second Saturday of every month.
Religious Probe Group  The Religious Probe group meets on the first and third Sundays of the month from 11:30 a.m. to 12:30 p.m. This group will explore the interests of Northwoods congregants who wish to discuss religious issues, regardless of which religion. Proposed interests include the nature of God and writings by contemporary Christian theologian Richard Rohr, namely "The Universal Christ."