Weddings and Events

You are cordially invited to host your wedding at Northwoods.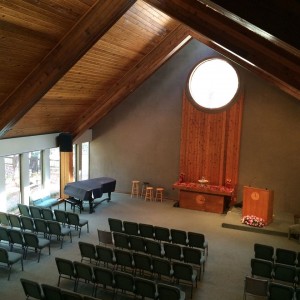 Our Sanctuary provides a beautiful space for a small to medium size wedding or event. Northwoods is nestled by tall pines and visitors often comment on the serenity of the church and the grounds. The spaces are functional and versatile, and with a supply of chairs and tables renters can customize the space to suit their needs.
Some frequently asked questions:
Do you provide the minister, or can I provide my own officiant?
Fees for the officiant are not built into the rental price. You are free to bring your own, or you can arrange to have our minister officiate for you.
Do you have to be a member to rent space?
You do not have to be a member to rent space.
Do you have to be a Unitarian Universalist to rent space?
We embrace the diversity of world religions and welcome all faiths.
Do you allow LGBT weddings?
Of course!
What days are the church available?
Our calendar of availability can give you a preview, but for a detailed list of available dates please contact our church administrator.
Do you allow receptions?
Our space is perfect for an informal reception. We do not have space for a sit-down dinner.
What are the rental fees?
Our rental prices are very competitive, and vary according to event type. For rental rates, please contact our church administrator.
Meetings
Northwoods offers affordable meeting space for church members, non-profit groups, affinity groups, and members of the public. We offer a variety of tables and chairs so the space can be customized to suit your needs.
For rates and availability, contact the church administrator.