Information for First-Time Visitors
Welcome to Northwoods Unitarian Universalist Church! We're glad you are here.
Each of us at one time or another finds ourselves looking around, seeking something that will help us make more sense, bring more meaning and more connection in our lives.  Whatever is propelling you to seek out a liberal faith community at this moment in your life, we welcome you in that seeking.
People seek out a church community for many reasons, including community, religious education for themselves or their families, meaningful worship time, opportunities for celebration, service and fellowship, a time of change or crisis in one's life, or opportunities to explore life's fundamental questions more deeply and intentionally.  Each of these is a part of life at Northwoods Unitarian Universalist Church.
Information about Our Church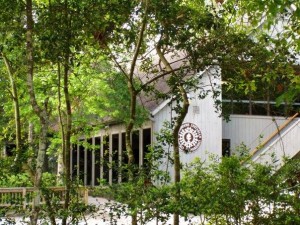 Our address is 1370 North Millbend Drive, The Woodlands, TX 77380. Click here for directions.
Accessibility
Our building is wheelchair accessible and we offer open spaces in the sanctuary for wheelchairs and walkers. Reserved parking spaces for those with handicap permits are located in front of the building. Hearing Assistance Devices are available for services on Sunday mornings – ask a greeter if you would like to use one.
Information about Unitarian Universalism
Northwoods is a member congregation of the Unitarian Universalist Association.  Ours is a non-creedal faith; there is no test of belief or creed required for your membership here.  Our churches do, however, hold in common our Seven Principles and Six Sources.  We stress the importance of a free and responsible search for truth and meaning in our lives, and we are enriched by the various ways in which our individual explorations both converge and are diverse.
How can I get involved in Northwoods?
We have Meet and Greets on the fourth Sunday of each month after the services, which are a good place to start to learn about church programs and congregational life. They offer a great opportunity to ask questions in a casual environment to find out more about our faith and community. The greeters, Rev. Sarah, or any member you meet on Sunday would be happy to share more about Northwoods as well.
We invite you to explore our various interest groups, spiritual practice groups, adult forums, summer camp, musical groups, and more through the "Making Connections" menu at the top of this page. We invite your participation in any of these activities – you do not have to be a member to participate in any church programs or clubs. We'll be glad to have you!
---
For additional questions, please see the Visitors FAQ or contact [email protected].